Sustainable Development Framework
Businesses are woven in the social fabric, and underpin the prosperous development of the economy and society. Through good governance, the Group endeavors to gather sustainable investments and uphold a positive commercial environment.
Identifying New Business Needs and Solutions
The purpose of businesses is to solve particular needs of customers. In achieving sustainable profits, Great Eagle proactively identifies unrecognized needs, which can potentially become the new order of the market. The Group then transforms its property and hospitality expertise into innovative solutions to address these anticipated demands.
Corporate Governance
Great Eagle is committed to adhering to a high standard of corporate governance practices. Relevant guidelines, policies, and procedures have been established. See Corporate Governance page.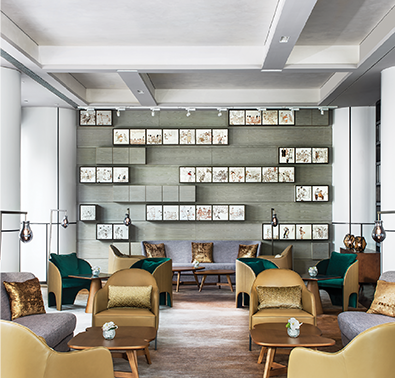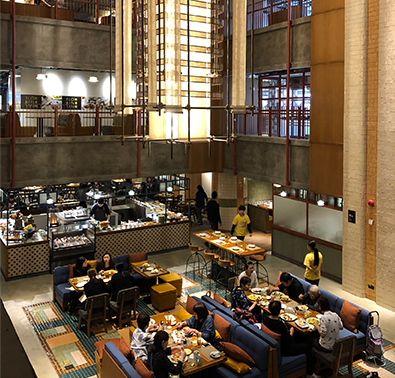 Operating Practices
Maintaining the highest ethical standards is a manifestation of the Group's core value of integrity. The material stakeholders, i.e. employees and suppliers, are actively engaged in the process. Comprehensive guidance is provided to all employees in a Code of Conduct, which explicitly prohibits employees from soliciting, accepting, or offering bribes or any other form of advantage. The Code also outlines the Group's expectations on staff with regard to conflicts of interest.
Recognizing the importance of fair operating practices along the supply chain, the Supplier Code of Conduct has been developed. This Code addresses sustainability aspects on business integrity, human rights, health & safety, environmental protection, etc.
The Group believes in providing the very best service to consumers, whether they are guests of its hotels, or tenants/shoppers at properties under the Group's management. Examples of the many initiatives undertaken include:
Quality management systems are in place to deliver the best services in properties and hotels
Feedback systems are adopted to ensure the outcome corresponds to expectations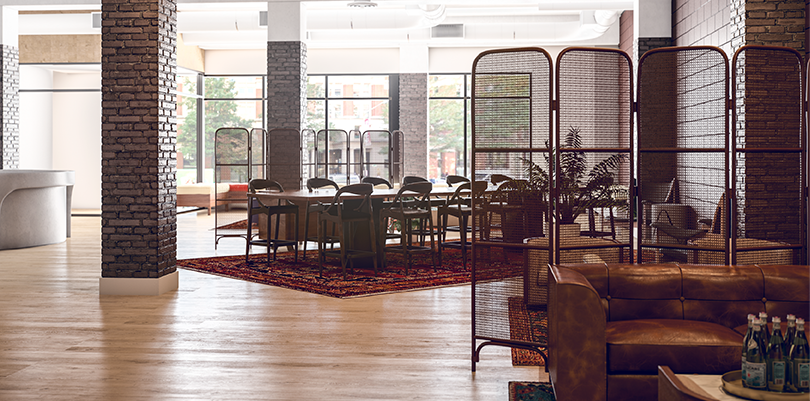 SUSTAINABLE FINANCE FRAMEWORK
As part of our ongoing commitment to sustainable growth and our desire to further the development of sustainable financing in Hong Kong, we have developed a Sustainable Finance Framework. Aligning with international market standards and best practices, this new framework covers our four main transaction areas:
Use of proceeds
Process for project evaluation and selection
Management of proceeds
Reporting
The net proceeds from our sustainable finance mechanisms will be used to fund or refinance eligible projects that relate to green buildings, energy efficiency, renewable energy, climate change adaptation, waste management and recycling, sustainable water management, socio-economic advancement and employment generation, and pandemic response.
The Sustainable Finance Framework was reviewed by Sustainalytics, an independent environmental, social and governance research, rating and analysis firm. Sustainalytics has also provided a second-party opinion on the framework.
Please click to read:
Tax Strategy
This document will be reviewed from time to time.
This document sets out the approach of Great Eagle Holdings Limited and its subsidiaries ("the Group") in managing its own tax affairs. Its publication is regarded as satisfying the statutory obligation under paragraph 19(2), Schedule 19 of the UK Finance Act 2016.
Compliance
The Group is committed to complying with tax laws and practices in the countries where it operates. Compliance means paying the right amount of taxes in the right place at the right time and involves disclosing all relevant facts and circumstances to the tax authorities and claiming reliefs and incentives where available.
Risk Management
Given the scale of business and volume of tax obligations, risks will inevitably arise from time to time in relation to the interpretation of tax laws. The Group proactively seeks to identify, evaluate, manage and monitor these risks to ensure they remain in line with the Group's risk appetite. Where there is significant uncertainty or complexity in relation to a risk, professional advice will be sought.
Tax Planning
In structuring commercial activities, the Group will consider – among other factors – the tax laws of the countries within which it operates with a view to maximizing value on a sustainable basis for its shareholders. Any tax planning undertaken will have commercial and economic substance and will have regard to the potential impact on its reputation and broader goals. The Group will not undertake planning that is contrived or artificial.
Relationship with Tax Authorities
The Group engages itself with tax authorities, including but not limited to HMRC, with honesty, integrity, respect and fairness and in a spirit of co-operative compliance. The Group will respond to information requests in a timely manner and to ensure full disclosure of relevant information. For any disputed matters, the Group will seek to resolve them through pro-active and transparent discussion and negotiation with the competent tax authorities.
The Group's thriving business is founded on its cohesive team of talents as well as a favorable environment in which it operates. It is the Group's wish that its talents and the society grow continuously.
Quality Workplace and Wellness
In maintaining a quality workplace, diversity and inclusiveness is of top priority. At the same time, the Group takes a humanized management approach to maintain a positive working environment.
The Group's Equal Opportunity Policy ensures that no job applicant or employee receives less favorable treatment or is disadvantaged by sex, race, pregnancy, disability, marital status or family status when applying for a position with the Group or during employment.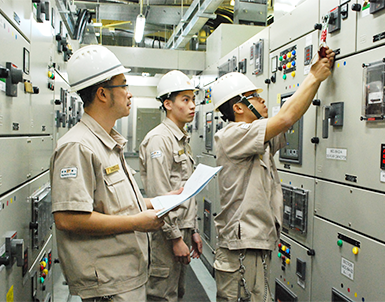 The Group relies on talented and committed professionals to operate its wide range of businesses. In order to uphold the versatility and morale of the team, the Group offers a wide range of training and development programs, as well as wellness and recreational activities.
It is critical that its staff work in a safe and healthy environment. At Great Eagle, this has materialized through Health, Wellbeing & Safety Policy, the occupational health and safety (OH&S) management systems of the hotel division and property management division, safety committees, OH&S training, as well as evaluation of relevant data. The health and safety of employees is safeguarded from management to frontline levels, and also from strategic to operational stages.
---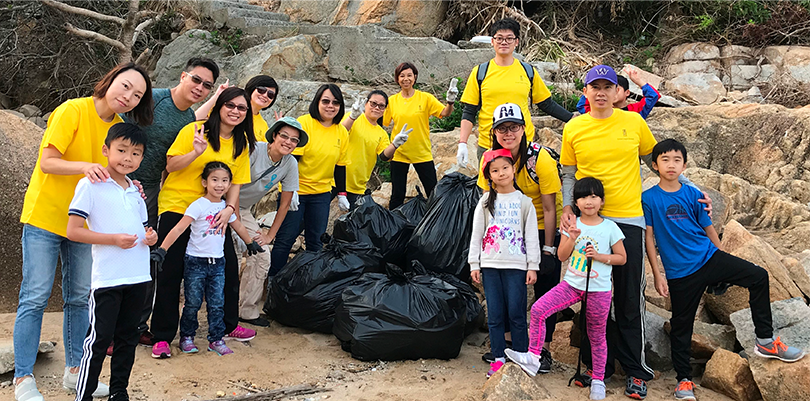 Community Investment
The Group partners with non-profit organizations with similar values to design deserving community projects, and provide financial, in-kind support and volunteers.
In order to achieve greatest results, the Group focuses its resources on three themes – Art, Children Education, and Environmental Protection.
| | | |
| --- | --- | --- |
| A | – | Art |
|   |   | As a channel to present emotions and reflections, arts enrich people's souls and brighten the society. |
| C | – | Children Education |
|   |   | Children are the future of the society. It is essential to nurture their all-round development in the golden period for growth. |
| E | – | Environmental Protection |
|   |   | Community-wide environmental protection impacts, usually begin with a seemingly small behavioral change of individuals. |
The Group takes its role as an environmental steward seriously, and strives to utilize resources in a manner that does not compromise future usage but facilitates development of the next generation.
Environmental Protection
The Group's Environmental Policy demonstrates our commitment to sustainable development and responsible environmental stewardship. Under the Policy, we would identify and mitigate significant climate-related issues to us as well as continuously improve the environmental performance of our operations. To mitigate the Group's environmental and social impacts when making procurement decisions, Sustainable Procurement Policy is also established.
The contribution of various business units/departments forms the group-wide environmental protection effort. Effective business processes are in force to ensure that, from the methods of operation to its deliverables, carbon footprint is managed and minimized.
The Green Champion Working Group, which gathers Green Champions from business units/departments, has been formed to facilitate the sharing and learning of green practices, and to spread the best green practices throughout the Group.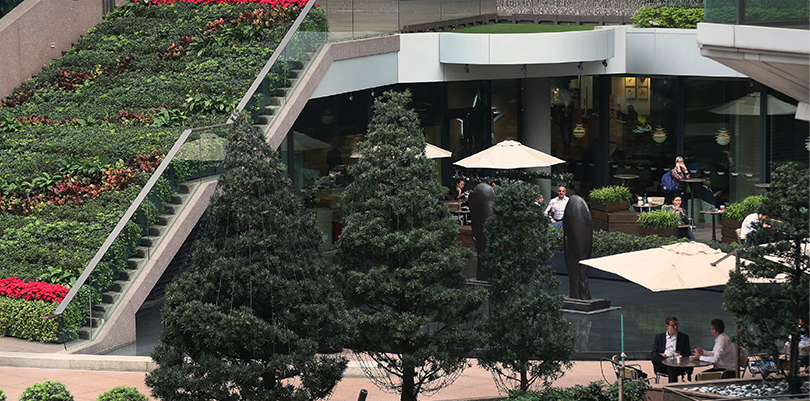 The Group's hotel division has initiated the "Guests of the Earth" and "Green Team" programs which promote active participation, learning and awareness of environmental protection to hotel guests and staff. The hotel division also partners with the EC3 Global EarthCheck Program. It is developed by the Sustainable Tourism CRC, which is the world's largest research center in sustainable tourism.
The Group's environmental considerations exist as early as the planning stage and are evident throughout the lifecycle of its buildings. The goal of the Group to minimize the negative environmental impact of its properties has been acknowledged by BEAM Plus and LEED which recognizes good practices in planning, design, construction, management, operation and maintenance of buildings.
The Group's property management division has obtained ISO 14001 certification, which guides the division to enhance its environmental performance and achieve its environmental objectives.