Catalyzes Industry-wide Change on Plant-Based Dining
Great Eagle Group and Green Monday Join Hands to Initiate Hong Kong's First Plant-Based Culinary Arts Academy
(9 August 2021, Hong Kong) – Great Eagle Group is continuing to raise the benchmark for its dedication towards championing plant-based dining and sustainable food systems. In another first, the city's leading conglomerate and Green Monday Group have partnered to launch new green projects to create an impact for the wider community and ultimately, make green eating easier for the public to embrace. 
Chefs and restaurants play a critical role in shaping society's diet. To support the industry in its successful innovation, the city's very first Plant-Based Culinary Arts Academy was established to educate the use of plant-based ingredients, to inspire change across menus, and to bring plant-based dishes to the forefront of diners. Curated especially for the current and future of the F&B and Hospitality industry, the Academy pioneers plant-forward dining and, at its heart, aims to make delicious, healthier and sustainable eating exciting and accessible when dining out.
The first session dedicated to the next generation of sustainable chefs and food-industry professionals received an overwhelming response. It was held on 28 July at the Electrolux showroom for culinary, hospitality and dietetics students where they had the opportunity to understand the relationship between food production and global environmental stress, master innovative techniques and skills using plant-based meat. Based on the enthusiastic feedback, the Academy will continue to host more sessions which will be tailored for caterers, restaurant chefs and hotel chefs.

Aimed at "Make change happen, make green common", to engage passionate home cooks and the general public to also adopt a healthier and planet-friendly approach to eating, Great Eagle Group's acclaimed Chefs have revealed five signature dishes to develop into Green Recipe cards. The recipes from Michelin-starred restaurants include T'ang Court at The Langham, Hong Kong, Ming Court and Alibi – Wine Dine Be Social at Cordis, Hong Kong, Ming Court Wanchai and Yat Tung Heen at Eaton HK. The Green Recipe cards can be found at all Green Common stores across the city in August.

"Great Eagle Group has been promoting plant-based diet proactively in the community. By partnering with Green Monday, the Plant-Based Culinary Arts Academy allows culinarians to master knowledge about plant-based diet and thus bringing more green diet options to the community. The Group hopes that the projects could gather the power of the public in changing their eating habits and work together to tackle the climate change challenge." says the spokesperson of Great Eagle Group.

"This partnership highlights our joint commitment to champion plant-based diet to the city's culinary talents and passionate home cooks, creating a new dining and eating culture that can alleviate global crises including climate change, food insecurity and public health. We are honored to receive the support of our partner Great Eagle Group to revolutionize the way we eat and build a sustainable future." says David Yeung, Founder and CEO of Green Monday Group.

For more information, visit https://greenmonday.org/en/plantacademy/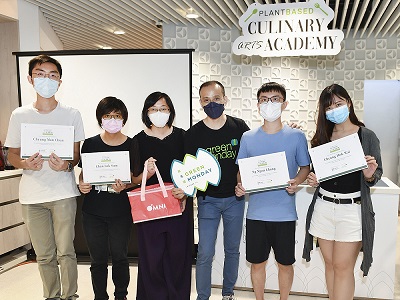 Participants including students and instructors from culinary institutes together with Mr. Athlon Chan.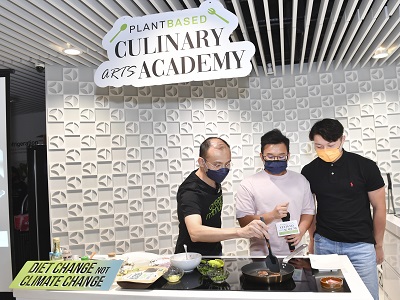 Interactive demonstration that participants could fully experience the versatility of plant-based ingredients.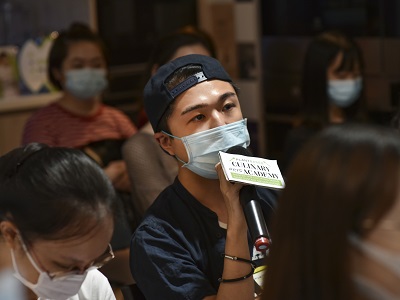 Interactive Q&A session.