Hotels And Hospitality
The Hotels division serves a long-term strategy to expand the Group's asset base and permeate its global footprint and international brand recognition.
OWNED AND MANAGED HOTEL PORTFOLIO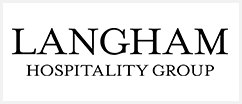 Serving as the hospitality arm of Great Eagle, Langham Hospitality Group takes pride in its legendary heritage dating back to 1865, the year in which The Langham, London was opened as Europe's first "Grand Hotel".
The Group's extensive international hotel portfolio comprises 26 self-owned or managed properties in Asia, North America, Pacific and Europe. The hotels of The Langham, Cordis and affiliated brands received worldwide prominence, and are recognized by customers as a symbol of quality.
BRANDS MANAGED BY
LANGHAM HOSPITALITY GROUP
The Langham Hotels and Resorts is a label of luxury hotels located at prime destinations. From sophisticated designs to award-winning dining and quintessential Club experiences, each hotel exudes a hint of British heritage and passion for delivering exceptional, personalized and unpretentious service.
An approachable luxury hotel brand with a service style that is heartfelt and intuitively generous. Located in the heart of the local community in the most stimulating destinations around the world, Cordis hotels deliver local experiences that are authentic and family inclusive.
Ying'nFlo is an upper midscale hospitality brand, with its sociable lifestyle approach accented with emerging music and art, geared at capturing the bold optimistic spirit of Millennials and GenZers across the globe. The concept combines simple stylish design with brilliant basics which are efficiently executed with a strong social vibe.
MANAGED HOTELS
(OWNED BY THIRD PARTIES)
Apart from the hotels owned and part-owned by the Group, Langham Hospitality Group also manages hotels for third parties under the brands of The Langham, Cordis and affiliated brands.
As at the end of June 2023, there were 12 third-party hotels under management with approximately 3,400 rooms.
Distinct from prevalent hotel business models, Pacific Eaton International Corporation serves as another hospitality arm of the group and manages Eaton Workshop, a purpose-driven company built upon shared values. Through Eaton's properties, the Group ventures to transform the hotel space into a multifaceted gathering place, connecting its guests and the local community through culture, media, wellness and impact.
BRAND MANAGED BY PACIFIC EATON
INTERNATIONAL CORPORATION
Owned and managed by Pacific Eaton International Corporation, Eaton Workshop is the Group's revamped lifestyle brand that targets younger and more socially conscious travelers. The hotel design caters for their strong preference for an interaction-based stay by introducing more open and communal spaces including a wellness center, cinema, radio station, and multiple food and beverage venues. There is also a co-working members club to reflect the changing needs of modern business travelers, which is being redesigned along with the public space to accommodate more events and to better reflect Eaton's standards.